Snow
Gentle flakes
Soft and white
Drifting, falling
Through the night In silent wonder
As I slept
Glistening secrets
Darkness kept With morning light
Appearing bright
Peering out
Brought pure delight The mundane world
I thought I knew
Had been transformed
To something new The filters
I'd been seeing with
Could not survive
This viewpoint shift It shocked me into
Present time
Beyond the trappings
Of my mind Here and now
In awe and wonder
Dissolving illusions
I'd been under Nature's beauty
So intensely real
Hearts spill open
And people feel In this space
We come alive
In this joy
Our spirits thrive Seek the beauty
In all things
Feel gratitude
For what life brings Stop and smell the roses
Breathe the sparkling air
The magic in that flake of snow
Is lurking everywhere. Dan Coppersmith
© 2004 Dan Coppersmith. All Rights Reserved. You may print a single copy of this poem for personal use. Please do not distribute in any form without written permission from the author. If you would like to use a poem, either call 214-662-3159 or Email Me and let's talk.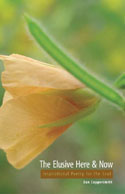 The Elusive Here & Now uplifting poetry book contains 23 insightful poems and 42 vibrant color nature photos, all created from Dan's life journeys of self-growth and awakening. This book offers inspiring perspectives on life, reality, and the choices we make.
Dan's poetry gently opens eyes and hearts with ideas about who we are, how we create and what it's like to be human.
It is a great carry around book and a perfect gift for all who seek inner peace and healing.
Learn More About The Elusive Here & Now
See Another Poem from the Book